We put together specialised tours throughout the Northern Territory and Kimberley for people who want to know more about the art, who want to be connected with the origins of their pieces and discover the marvellous land that inspires the artists. We make all the necessary arrangements so you can get off the beaten track to visit established art centres who warmly welcome visitors.

Have you often looked at the beauty of Aboriginal art and wondered about its background, or about the landscape that inspired the colours, and the communities and country that these amazing artists come from? Have you been to exhibitions and met some of the artists who are a long way from home and thought about walking in their footsteps and experiencing their land and culture? We can offer you that opportunity.

Flying over this landscape is amazing, with its rich vibrant colours and spectacular topography. We believe this experience will be a wonderful opportunity for you to gain a greater knowledge and understanding of Aboriginal art and culture, truly enhancing your relationship with your current and future collection and leaving you with memories to last a lifetime.
Following are some examples of itineraries that we've conducted recently. Each tour is custom made to suit your interests, group size and budget, so no two departures are quite the same. The following itineraries provide an indication of the scope of what we can do but they are just a small example. Talk to us about your interests and we'll create a tour especially for you.
7 Day APY Lands Art Tour
Welcome to your tailor-made Aboriginal art tour, designed to help you connect with the land and culture that influences the art you admire. We have developed an itinerary that features an interesting selection of remote Indigenous art centres combined with some fabulous sightseeing opportunities along the way.

Full Itinerary

7 Day Tiwi Island Arnhem Land tour
This year we have designed a comprehensive tour of Arnhem Land, focusing not only on the art centres, but we have also included immersive environmental events. A spectacular time of year, after the wet season has abated, the drier air ensures comfort whilst the land is still lush and green.

Full Itinerary

7 Day Arnhemland Tour
This seven day tour takes you to view in situ some of the finest Aboriginal art produced across the Top End. We visit major art centres such as Jilimara Arts, on Melville Island, and Buku Larrnggay Mulka in Yirrkala, as well as off the ebaten track centres such as Bula'bula Arts in Ramingining and Elcho Island Arts.

Full Itinerary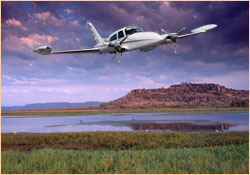 7 day Kimberley Art and landscapes
This tour combines the best of East Kimberley art with some fabulous sight seeing experiences.
Fly across extraordinary landscapes to Balgo and Fitzroy Crossing to gain an insight on the country that influences the art that you'll see on the ground. Drive along side the Kimberley escarpments to Warmun and Wyndham to see gorgeous ochre works by emerging and well known artists. Fly over the unique Bungle Bungles in a helicopter for an exhilarating bird's eye view of this amazing formation. Relax and regenerate in comfort at El Questro Bungalows.

Full Itinerary
7 day Western Desert Journey
Travel across the vast desert regions of Central Australia and visit amazing and very remote art centres in tiny communities on a fully escorted flying tour from Alice Springs.
This sample itinerary includes a wonderful cross section of communities and art styles, exploring the Ngaatjatjarra Pitjantjatjara Yankunytjatjarra (NPY) lands and beyond. See amazing landscapes from the air before discovering them boldly recreated with acrylics on canvas when you're on the ground.
Spend each night in luxury under the shadow of Uluru at Ayers Rock Resort and have the option to explore this amazing monolith and nearby Kata Tjuta (the Olgas).

Full Itinerary
One day getaway ex Darwin
Only one and half hours flying time from Darwin, Maningrida is a treasure trove of Arnhem Land art and culture. This one day experience takes you into Aboriginal land where you can experience the collection and preparation of natural fibres and dyes for use in distinctive works of art.
Visit Maningrida Arts and Culture to see an amazing selection of bark paintings, woven sculpture, dijeridus, prints and fabulous hollow logs and Mimi spirits.

Full Itinerary
4 Day Darwin and Beyond
Enjoy many contrasting experiences in just four days. This tour is based in Darwin and includes flying trips to Arnhem Land and the Tiwi Islands, along with a day spent exploring the many art galleries and significant sites around the city. It's the perfect solution for those without a lot of time but still want to get out and experience some of the amazing art and landscapes of the Top End.

Full Itinerary
Tailormade tours
Individual itineraries are created especially for you, including visits to the art centres you're most interested in along with the wonderful scenic attractions of remote Aboriginal Australia. We can include a journey in to Arnhem Land to see ancient rock art, a fishing trip near the Tiwi Islands, a helicopter flight over the Bungle Bungles or an opportunity to experience sunrise or sunset at Uluru (Ayers Rock). Talk to us about your interests.
One Day Tiwi Islands
Tiwi Design Aboriginal Corporation is located at Nguiu on Bathurst Island. The artists at Tiwi Design are renowned for producing a variety of highly collectable traditional ironwood carvings of ceremonial poles and creation story figures as well as fine ochre paintings on paper and canvas and traditional ceremonial objects such as bark tunga, spears and head dresses. Tiwi Design has an international reputation for working in a variety of media producing hand printed designs on fabric, etchings, wood block and lino prints, as well as ceramics and highly collectable bronze and glass sculptures. www.tiwidesign.com

Full Itinerary
What you need to know
As all tours are tailor made to suit your interests and access to available art centres, there is no set price. Prices vary subject to the number of people on the tour, the type of aircraft and/or road transport utilised, the standard and availability of accommodation and other variables. We understand that each group as their own passions and interests and work with you to create the best possible experience for you and your party.